SoluM's innovative Item Label is the world's first electronic label
to digitalize pricing and product information beyond shelf level and onto individual products.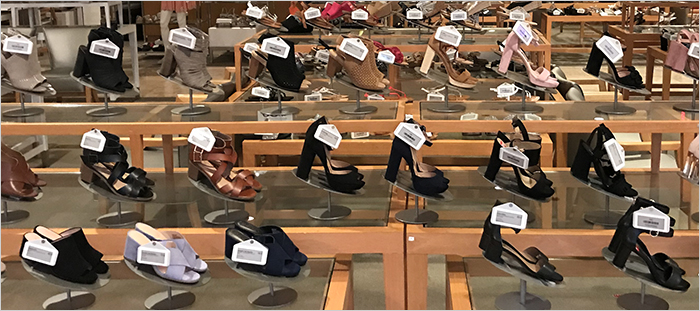 | | |
| --- | --- |
| Sectors | Department Store |
| Country | USA |
| Number of stores | 800 |
| Introduction | 2017 Year |
| Product family | Item Label (for loose articles such as shoes, hand bags, clothing, home goods), Graphic Label, Central Server |
Macy's, one of the top department stores, adopted SoluM ESL System to strengthen their competitive pricing and to increase store efficiency. At the end of 2017, SoluM designed and developed Item Labels specific to Macy's need, and in 2018, launched SoluM ESL throughout 540 store locations. With the successfully launching of the ESL System and achieving their marketing plan throughout the end of year holiday, Macy's is preparing to expand to other departments with newer SoluM Electronic Shelf Label (ESL) solutions.
As a leader of technology and innovation, Macy's has been evaluating digitizing product pricing and information for years. Prior to SoluM, all product based electronic labels were shelf based and could not be used in the department store environments. Collaborating with and understanding Macy's requirements, SoluM was able to design and develop the Item Label line. SoluM Item Label not only provided the functionality of digitalizing but also a new sleek design worthy of use with designer and fashion products.
SoluM's design team worked with Macy's team to produce with a vast lineup of designs for their different needs, that was ultimately narrowed down to 3 specific designs. SoluM was able to expedite design, development, and manufacturing of 500,000 ESLs within 3 months to meet Macy's target timeline. All this was possible because of SoluM's in-house capabilities. For tag management, SoluM provided the AIMS Central Server allowing Macy's to be able to centralize tag updates and pricing from a single location, helping save on infrastructure costs.
Store associates no longer having to replace paper prices, they are able to focus more time for customer service and support. With SoluM ESL, Macy's is able to update prices overnight for all stores and also schedule price changes during the day to provide dynamic store pricing, improve & efficiency, and increase sales. With the initial success, Macy's and SoluM continue to discuss new design and application for future expansion
Check out the excellence of SoluM ESL